Jane McLaughlin is a nursing student and basketball star who has battled mental illness
Mental health issues kept Jane McLaughlin from returning to university after her first year, but she came back to complete her nursing degree and co-captain the varsity basketball team.
And now she is the Atlantic University Sport nominee for the Tracy MacLeod Award, which rewards determination, perseverance and an unwavering spirit. It's a fitting award for a young woman who at one point was unsure she would reach her 23rd birthday, which she celebrated Friday.
McLaughlin knew there was something unusual about the way her brain worked years before she came to a crisis point in 2015.
"In high school, and even in middle school, I was really sensitive to things," she told Island Morning host Matt Rainnie.
"I knew something was different with me."
'I just felt not important'
McLaughlin did well in her classes in her first year of university, and made the basketball team, but by January her mental health was deteriorating. She was highly self-critical, and felt other people were criticizing her as well.
"In May, that was the first time where I was like, 'Yeah, I think I want to be dead,' which is a gruesome thing to say, but I didn't want to be around anymore," she said.
"Not because other people made me feel that way. I just felt not important."
Sitting in her residence room on her own, she called a mental health hot line, and they told her to go straight to the hospital.
When doctors there felt it was safe to let her go, at about 3 a.m., she called her mother.
"She lives out in Fortune and she was in Charlottetown very quickly and took me home," she said.
"There's been a lot of hard things I've had to tell my mom over the phone. I really did hear hurt, and scared."
Days in shambles
Despite being home, and away from the stress of school and the basketball season, she struggled through the summer, with her doctor trying different medications to get her back on a more even keel. But come September, she was not ready to go back to school.
She continued to deteriorate. She spent the days in her mother's bed, and the nights on the sofa, unable to rouse herself even to eat. She lost about 20 lbs.
'I can't suffer like this anymore.'
— Jane McLaughlin
"February was when it all went to shambles. I didn't want to die, but I guess you could say I did try to kill myself," she said.
"I wanted to sleep, so I just knew in that moment, I can't suffer like this anymore. It's literally so agonizing that I tried to do something to make that stop."
Her boyfriend called her mother, and they came to a realization that it wasn't safe for her to stay at home.
"I was admitted to the infamous Unit 9, which I am really grateful for," she said.
Building unexpected friendships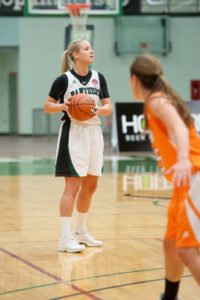 McLaughlin didn't know what to expect at the psychiatric unit at the Queen Elizabeth Hospital.
"You're just curious. What goes on there?" she said.
'There's no chains, and it's not a bedroom with one bed on the floor and no one's tied up.'
— Jane McLaughlin
"There's no chains, and it's not a bedroom with one bed on the floor and no one's tied up. That sounds so horrific but I feel like that's what some people are thinking. Or that there's people running and screaming down the hallways all the time."
What McLaughlin did find is a place where she could feel safe, and a surprising bond with the other patients there.
"Maybe we didn't come from the same background or didn't have the same values but we shared the core: our brains have something wrong with them, and I can relate to this person beside me," she said.
Her time in Unit 9 helped her return to a more balanced state, and by September she was back at school, and back on the basketball team.
Excellent care, but some shortcomings
She has remained steady since her return. She will complete her nursing degree this spring, and she helped her team make it to the AUS final.
While she is grateful for all the help she received, she is also aware of the hard time her mother went through, and she wishes there had been more support for her.
'Probably in my life again there's going to be another dark time.'
— Jane McLaughlin
"She struggled on her own trying to find ways to help me. Sometimes P.E.I. is this amazing little place that is so community-oriented and everyone gets along, but then there's a lot of stigma, there's a lot of judgement, everyone knows your business," she said.
"We're lacking in some areas for sure."
MacLaughlin wasn't comfortable talking about her mental health when she first returned to school, but now that she is talking about it, people are reaching out to her to let her know how she inspires them.
"It definitely does get better," she said.
"But as a person living with mental illness … you always live in that fear that probably in my life again there's going to be another dark time. I have to be conscious enough that I got through the last one and I'll get through the ones to come.
"Anyone who's struggling, reach out, and be happy."