Cyclists can share information about collisions, near misses, and road hazards on app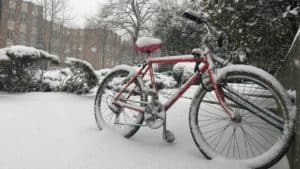 Navigating the streets of St. John's on a bike can be challenging.
Some parts of the city, such as Kenmount Road and Allandale Road, can be downright frightening on two wheels.
But a Memorial University assistant professor is working to change that.
Daniel Fuller is gathering incident reports to help cyclists and city planners make pedalling around St. John's safer.
Close calls and potholes
Fuller is asking people to report incidents by using an app called bikemaps.org
"It's a citizens science project where we ask community members to report their cycling incidents," said Fuller, a Canada Research Chair in Population Physical Activity at Memorial's School of Human Kinetics.
"They can report collisions, close calls, road hazards like pot holes, and bike thefts. Basically to give us an idea of where people are cycling and where possibly dangerous places are and where good places to cycle are."
Fuller said the map will be useful for individuals who want to plan a safe bike route and it may also help city planners figure out where cycling infrastructure should go.
"Where to put bike lanes. Where risky places are. Where we might need to add intervention to make cycling safer," he said.
The interactive St. John's area map has only been promoted for less than a year and so far only a few dozen incidents have been reported.
Fuller hopes that will change and he's encouraging cyclists get the app and add their reports.
"We have a cluster of incidents around the university," he said.
"This is probably because lots of people cycle to the university but also the university is bordered by lots of busy streets and intersections, and that means there is potential for collisions. So, so far, that tends to be where incidents have happened getting on or off of campus."
Planning bike paths
Fuller hopes that as more people add their incident reports, the map will give city planners more information about where bike infrastructure should go.
He said we can also learn from what other Canadian cities have done. Many have built bike lanes that are separated from roads by a barrier.
"The key message that we always give out as researchers is that separated cycling infrastructure is the safest and the most convenient for cyclists. It's also helpful for reducing motor vehicle collisions because it encourages cars to slow down too."
In December, a committee — which includes city representatives and members of the public — was formed in St. John's to look at what might work and then make recommendations to the city. There is no firm date on when the report will be finished.