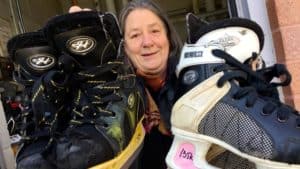 After months of fighting to get her donation of 120 pairs of ice skates put to use on a city rink this winter, community activist Jutta Mason has finally seen her dream come true.
But problems between volunteers and city staff that marred the first skate-lending event on Family Day are looming over the second, and final, skate in Regent Park on Thursday evening.
Since November, Mason and a group of other skating enthusiasts have been trying to put the skates, many of them donated by the National Hockey League Players' Association, to good use.
"Toronto is the world capital of outdoor mechanically cooled ice rinks," Mason told CBC Toronto. "Those rinks don't get enough use, and one reason is that people don't have skates even that want to try it."
The city, which initially turned the donation down due to a lack of resources, agreed to facilitate a free skate lending program for two separate events at the Regent Park ice rink on Family Day and again Thursday night.
The events are led by the Friends of Regent Park, in partnership with the Centre for Local Research into Public Space (CELOS) — a community group founded by Mason — as well as developer Daniels Corporation and various other advocacy groups.
A portion of a $3,000 donation from a local business helped pay for skate sharpening and transportation of the equipment across town from a warehouse near Dufferin Street where the skates are stored.
Even with the financial help, the two skating events are the only times this winter the skates will be used.
'You see how the rink changes … it's beautiful'
The first event on Family Day was popular, with around 200 people flocking to the rink, creating "significant lineups" and "just a constant feed of people" according to Fatima Barron, social development coordinator at CRC (Christian Resource Centre) Regent Park, a non-profit community organization.
"We were very, very overwhelmed with such positive feedback from the community," Barron said.
"There are apparently a lot of newcomers … they don't want to go out, or they can't financially go out, and buy skates," Mason said. "But when you see how the rink changes, the look of the rink when there's skate lending, it's beautiful."
'A lot of 'thou shalt not' rules'
But both Mason and Barron explained that what seemed like a heartwarming story at the outset has gone a little lukewarm.
Mason, who helps runs a website devoted to skating and shinny in the city, and who helped the city set up a skate-lending program in Dufferin Grove Park, said she realizes this is a "very small issue," but she wishes the city would be a "more active partner" in the project.
She described palpable tension on Family Day between the volunteers and city staff. Mason said it seemed like staff was mostly engaged in enforcing a rule that prohibits shoes on the ice, keeping anxious parents from helping their small children stay on their feet.
"It seemed like it was more of a negative than a positive," she explained. "There are a lot of 'thou shalt not' rules, and not so much of an effort to actually make something work."
Barron echoed Mason's concerns, saying staff's attitude was not ideal, and her suggestion for Thursday is for the city to have a supervisor present.
Barron also said more help is needed for people who want to take part but don't know how to skate.
"People using skate lending programs are most likely people who are skating for the first time," she said. "So what will be ideal is to have additional supports … and also staff support to lend skating help for first time skaters."
City looking at more skate-lending possibilities
Matthew Cutler, a manager with the city's Parks, Forestry and Recreation division, is aware of the issues that came up on Family Day and said the city is reviewing some of the policies that kept people off the ice that day.
"We've definitely learned something there," he told CBC Toronto. "Our goal is always to maximize use and to get as many people out using recreation facilities as possible."
In terms of the issues between the staff and volunteers, Cutler explained that he's spoken with everyone and made changes to how they'll work together for the second event on Thursday.
Only three rinks in the city offer skate-lending programs. Cutler is part of a team of staff who are exploring the possibility of expanding the programs to more of Toronto's 52 rinks at the urging of city council. The report will be ready in July.
Coun. Lucy Troisi, who represents Toronto Centre-Rosedale, the ward where Regent Park is located, grew up skating on the local rinks, even putting herself through lessons and becoming a figure skater at age 20. She is in full support of the skate-lending program.
"It's a Canadian experience," she told CBC Toronto. "Many people want to learn how to skate, to play hockey. I think it's just as important as swimming is … It's part of our culture."