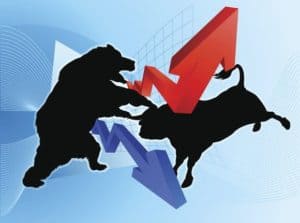 Himax Technologies (NASDAQ: HIMX) hasn't had the best start to 2018 with shares falling 22% since the start of the year. Shares of the chipmaker have been in a sell-off since last month after a tweet from short-seller Citron Research. This was followed by reports of weak demand for the iPhone X (which uses a Himax chip to enable Face ID) that is rumored to be forcing Apple (NASDAQ: AAPL) to consider slowing down the production of the device.
Investors were expecting Himax to turn things around with a strong fiscal fourth-quarter report, but Q4 revenue fell short of expectations, while the outlook for the quarter that includes March also left a lot to be desired. For a company that's had recent success supplying 3D sensing chips to Apple for the iPhone X and has struck a deal with Qualcomm (NASDAQ: QCOM) to make the same for Android smartphones, the results were no doubt disappointing.
But a closer look at the results and the guidance indicates that the weakness could be temporary.
A look at the problems
Himax's revenue fell both sequentially and year over year during the fourth quarter to $181.1 million, short of the $184 million consensus forecast. The 11% year-over-year revenue decline was a result of the phaseout of some old customer programs, as well as the company's failure to convert some of its earlier design wins into actual contracts earlier in the year.
A weak smartphone scenario in China also impacted Himax's results. Its smartphone sales fell 11.5% sequentially and 35% year over year as new Chinese smartphone models failed to attract customers' attention, leading to a buildup of inventory that hurt demand. Additionally, the shift in smartphone display technology to active-matrix organic light-emitting diodes and touch-and-display driver integration (TDDI) proved to be a headwind for the company.
As a result, Himax's revenue fell 8.1% sequentially during the fourth quarter. Investors would have expected Himax's Apple contract to help it score a big win in mobile during the quarter that included December. After all, the company's revenue had shot up close to 30% sequentially during the third quarter when Apple was ramping up iPhone production.
But it looks like Apple had bought the majority of its 3D-sensing chips from Himax during the quarter that included September, which led to a cooling of demand last quarter. What's more, Apple reached demand-supply parity for the iPhone in December, further evidence that Cupertino was done sourcing components earlier than expected.
But Himax management believes that the problems won't last long.
The turnaround prospects
As already mentioned, Himax is being hurt by a shift in smartphone display technology. But the company claims to have landed several TDDI-related design wins that will be used by smartphone original equipment manufacturers for making devices with high display resolutions such as full HD.
The transition isn't going to be smooth because Himax expects a 30% sequential decline in smartphone driver sales this quarter as a weak demand environment persists and product transition is taking place. Management believes that a tangible turnaround can be expected only from the second half of 2018 when smartphone makers start replenishing their inventories in preparation for new launches.
More important, Himax's focus on the use of 3D sensing chips in smartphones could prove to be a big catalyst. Himax and Qualcomm struck a partnership last year to develop a 3D sensing solution, called SLiM, for deployment in Android smartphones and other applications. Himax believes that this venture could start generating revenue soon.
The company is currently negotiating with several Tier-1 smartphone makers that will start offering 3D sensing on their devices from the first half of the year. Additionally, Himax is well placed to meet the potential demand, as it has built up an initial production capacity of 2 million units after the first phase of its capacity expansion.
The market for 3D sensing chips is estimated to grow from $1.7 billion last year to $14 billion by 2020, according to TrendForce. And the company's focus on 3D sensing and TDDI chips can help it tap other lucrative markets such as the automotive sector.
Last quarter, Himax's automotive-related revenue shot up 25% year over year to $25 million. This quarter, the company expects a massive year-over-year jump of 50% in automotive revenue thanks to its partnerships with the major manufacturers of display systems for vehicles.
Therefore, Himax has a number of catalysts that could help it get back on track. In fact, the company is calling for revenue growth in the mid-single digits in the first quarter of 2018 as compared to the year-ago period. By comparison, the company's top line had dropped almost 14% year over year during the first quarter of 2017, which makes it evident that business is picking up the pace.
In all, investors shouldn't get discouraged by Himax Technologies' tepid quarterly performance as it looks set to make a comeback.