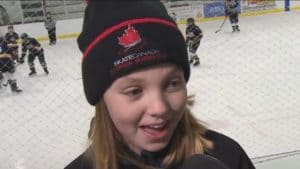 It's almost time for Kaetlyn Osmond's final performance at the 2018 Winter Olympics and she's in podium position.
With the time change from Pyeongchang, South Korea, Osmond will strike her opening pose in Thursday night's Olympic long program skate at 1:10 a.m. Newfoundland time, according to a post on her Facebook page.
She's skating 23rd out of 24 skaters after finishing third in the short program on Tuesday night with a season's-best score of 78.87 points.
Russian skater Evgenia Medvedeva is in second and her teammate, 15-year-old Alina Zagitova, is in first.
Zagitova earned 82.92 points with her skate on Tuesday, setting a new world record. Medvedeva temporarily held the same record with her own short program, which earned a score of 81.61.
Up late for the big skate
Fans in Marystown are once again ready to stay up late to watch their hometown hero skate on the Olympic ice.
A viewing party is happening at 11 p.m. at the Kaetlyn Osmond Arena, and 12-year-old figure skater Reagan Strang hopes her mother will let her stay up to watch the event.
"I just had a big science unit test today actually and I studied really hard for that so I hope she'll pay me back and I'll be able to watch it," said Strang.
"It's really cool because someone from this community, it's kind of a small town, just to see someone skating at such a big event is really cool."
Osmond will return to Marystown to skate at the Ice Crystals annual skating event on April 14.
If she wins, it will be her third career Olympic medal.