If someone needs help, they'll know what resources are available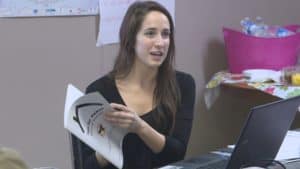 Over the years Raymond Guimond has had several encounters where people have come to him for help when they were homeless, or close to it, and he hasn't always known what he could do.
"Sometimes I had to offer my couch to some people," Guimond said.
"You just don't know what to do."
Guimond is one of more than 20 members of the Native Council of P.E.I. learning about what resources are available in the province to prevent and reduce homelessness, in the hopes of helping others.
NCPEI has compiled a manual, called Hope for Homes, which outlines the various housing programs and community resources available in P.E.I.
The 26-page document lists emergency shelters and various housing programs, as well as information about other resources, such as employment services, addictions and mental health services, food banks and soup kitchens.
Olivia Maynard, NCPEI's homelessness reduction coordinator, said people experiencing homelessness, or at risk of becoming homeless, often face a number of challenges beyond looking for a roof over their heads. She hopes having the information compiled in one place will make it easier for people to access the information they need.
"Having it all on paper in a manual, is something that can be distributed to people," said Maynard.
"Often the audience you're trying to reach, whenever it comes to homelessness, might not have access to a telephone or Internet to look up these resources on their own."
Maynard also hopes volunteers throughout the province will help spread information about what services are available.
"It's really important that people feel comfortable asking for help. So sometimes that may be easier to do whenever you're reaching out to a family member, or friend or a neighbour," said Maynard.
'At your fingertips'
Twenty-one volunteers have signed up so far, and NCPEI has held training sessions in Kings, Queens, and Prince counties.
Bryan Hutchings said he doesn't know much about the realities of homelessness in P.E.I., or the services available, and wanted to learn more.
Hutchings recently spoke with a young woman he saw panhandling in Charlottetown and wanted to help her, other than the women's shelter in Lennox Island he didn't know of any other services to direct her to.
"Just knowing the different shelters that are available, and whether they're for men, women, and under what conditions you can refer somebody to, and having the contact names of people in these various agencies pretty much at your fingertips [will be helpful]," Hutchings said.
He plans to keep the Hope for Homes manual in his car, in case it ever comes in handy.
Focus on Indigenous, rural
While Maynard hopes anyone who needs information will benefit from the Hope for Homes manual, it was specifically developed with Indigenous people and rural communities in mind.
In 2016, a point in time count conducted by the P.E.I. Community Advisory Board on Homelessness showed that Indigenous people made up 14 per cent of Islanders experiencing homelessness. By comparison, Indigenous people make up less than two per cent of the province's total population, according to Statistics Canada.
While the manual does include information on services in urban centres, Maynard said she particularly hopes it can help people living in rural communities, where she said it can be especially difficult to find and access services.