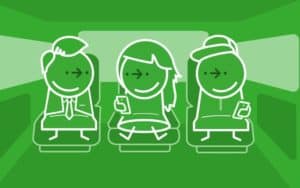 The urban transport app Citymapper has launched an on-demand minibus service in London, a cross between Uber and a traditional bus network that marks the latest attempt by a tech company to crash the capital's transport market.
Starting from Wednesday, the company is running a fleet of eight-seater Mercedes Viano buses that will pick up and drop off passengers at fixed points on a road network, with a service called "smart rides".
Like Uber, the company plans to charge users for rides, and the vehicles will be on-demand, responding to orders placed by users on the Citymapper app, instead of travelling along fixed routes.
However, unlike the taxi app, they will only travel on pre-defined roads and passengers will be dropped off and picked up only at certain points, rather than wherever passengers demand. All journeys will be shared rather than catering to individuals.
Citymapper is launching the service with a free trial in a small area of central London that includes Euston, St Paul's and Blackfriars but Omid Ashtari, the company's president and head of business, said it plans to expand the service soon. It has a licence for up to 500 bus drivers, who will be self-employed and operate their own vehicles.
"Shared transportation is the way to solve many cities' problems such as congestion and pollution," Mr Ashtari said, but added that the capital's bus regulations meant there was "not a lot of space to innovate".
Drivers will be restricted to driving on a "responsive network" of assigned roads, but the app will direct them along routes that respond to demand, which will make it easier for passengers to share rides.
Users will pay with a credit card connected to the app, and Mr Ashtari did not say how much a journey would cost when the app starts charging but that it would be "in between a a bus and a cab".
London-based Citymapper, which has raised over $50m (£36m) from investors including Benchmark Capital and Balderton, is best known as an app for finding the best way to get around cities using public transport.
It has been experimenting with its own transport services in recent months, running experimental bus routes around London, but regulations restrict its new service to running eight-seater rides, the maximum allowed under private hire licences.
Uber launched in the capital in 2012 but has since been threatened by Transport for London pulling its licence, although the company continues to operate as it appeals. Ford recently launched its own Chariot minibus service in London but unlike Citymapper the service travels along fixed routes.