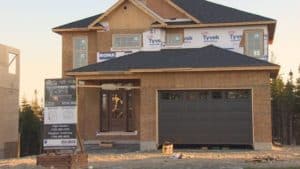 Building higher-density developments and focusing on an aging customer base are two strategies that could help home builders in Newfoundland and Labrador overcome the economic slump, says their association's new president.
"As home builders we're a resilient bunch, so we tailor our product to what the market is looking for," said Randy Oram, vice-president of Karwood Construction and incoming president of the Newfoundland and Labrador Home Builders' Association.
Right now that means a move away from the subdivisions full of single-detached homes that sold easily during the province's boom times of the last decade.
Those larger, more expensive homes are a harder sell now that the province is in the middle of an economic downturn that has seen both slower home sales and fewer housing starts.
And with energy costs projected to continue to rise in the coming years, heating a large home may become unaffordable for many.
Builders have to adapt to a changing market, Oram told the St. John's Morning Show.
"In this climate, you have to be a bit more creative with your developments and your product."
Think smaller and closer together
Smaller homes, and denser housing developments, are selling better than monster homes with prices to match.
"The higher-priced markets have seen the hardest hit," Oram said.
Most home sales in St. John's last year were under $400,000, and construction starts were actually up for duplexes, triplexes, semi-detached and row houses, Canada Mortgage and Housing Corporation analyst Chris Janes told CBC News in January.
First-time home buyers can now enter the market at much lower prices than just a few years ago, and Oram said more homes are being targeted to them.
Lower-priced homes can also make purchasing easier for potential buyers feeling the effects of an increased HST rate and new federal rules for mortgage eligibility.
Building for an aging population
Newfoundland and Labrador has the highest median age in the country, according to Statistics Canada, which will affect housing trends down the road, Oram said.
Changing housing regulations could also affect how homes are built in years to come.
The builders group recently had a presentation from the Coalition of Persons with Disabilities about universal design.
"It's about designing homes for the aging population, for accessibility," Oram said. "As our population does age you're going to see more demand for products like that."
Retrofits to existing properties could also be a growth area, he said, as more people choose to renovate or expand their existing home instead of buying a new one.
Renovations to increase energy efficiency are another area where home builders can make money, he said, with heating costs expected to jump significantly.
Energy efficiencies can be found in construction techniques — for example, the choice of windows or the way exterior walls are built. Or they can be achieved through new technology, like different heating systems or additions like solar panels.
"As technology advances, people want these new technologies in their homes," said Oram, who expects those customers to play a bigger role as home builders in Newfoundland and Labrador face the future.