Fellow Canadian skater Kim Boutin wins her 2nd bronze of the Olympic Winter Games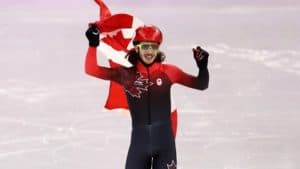 Canadian short-track speed skaters won a pair of medals at the Pyeongchang Games on Saturday, with Samuel Girard taking gold in the 1,000-metre and Kim Boutin earning bronze in the 1,500.
Although it started with five people, the men's 1,000 ended up being effectively a two-man race after two South Korean racers and a Hungarian crashed out just prior to the final lap. Girard and American speed skater John-Henry Krueger were in first and second when that happened, and the wipeouts allowed the two of them to chase each other for victory.
Girard becomes the first Canadian skater to win gold at this distance, as it is an event in which South Korea has dominated, having won five of the eight gold medals in the event, ever.
It's his first Olympic medal at his first-ever Games, but it's Canada's second short-track medal of the day.
Earlier in the day, Kim Boutin of Sherbrooke, Que., won bronze in the 1,500. It's her second bronze of the Games, having earlier won a bronze in the 500.
Her performance Saturday makes her the first Canadian woman to win two medals in individual short track events at the same Olympics.
And her second bronze must have been especially sweet for her, as her previous race was mired in controversy because South Korean fans felt she impeded Choi Minjeong, who was herself disqualified.
South Korean fans flooded Boutin's social media with threats and accusations of cheating in the 500-metre race, and she was clearly emotional when she received her medal for that distance earlier this week.
"Just after my warm up I cried, I cried a lot because I was scared," Boutin told the CBC following the race. "It was pretty tough. I'm a sensitive person."
But Boutin got a warm reception from the crowd prior to the race on Saturday. And Choi Minjeong got redemption of her own, winning gold in Saturday's race.
Torch passing for Canada
Girard and Boutin are very close with veteran skaters Charles Hamelin and Marianne St-Gelais, and these Games represent something of a changing of the guard in Canadian short-track speed skating.
And the medal haul from 22-year-old Boutin and 21-year-old Girard shows that for Team Canada in short-track — the kids are alright.
While three-time gold medallist Hamelin and three-time silver medallist St-Gelais are trying for more hardware of their own, they have each been warmly supportive of the younger athletes on the short-track team.
St-Gelais was among the first to congratulate Boutin with a hug on the side of the track after her race. Girard jumped on to the padding around the track after his race to meet with Hamelin, who gave him a playful smack on the helmet as congratulations.
"I will share my medal with him," Girard said after the race of his friend and teammate, Hamelin. "He worked so hard for me to be what I am right now."
But the hard work isn't over yet. All of them — St-Gelais and Boutin on the women's side, and Hamelin and Girard on the men's — will get a shot at more medals together next week in relay races.