Throne speech announcement pleases bike users, pedestrians who share narrow path on span's west side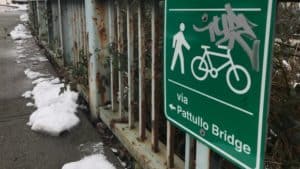 Few people were happier to hear the Pattullo Bridge replacement project mentioned in this week's speech from the throne than the small handful of pedestrians and cyclists who regularly use the span.
Those who cross the 81-year-old bridge on bike or on foot use a path on its west side that is wedged between a rusty old guardrail and two lanes of southbound traffic.
HUB Cycling Network Surrey & White Rock chair Tim Yzerman says the path is so narrow, two cyclists heading in opposite directions don't have enough room to pass each other.
"It's pretty rough," he said. "Whoever goes uphill pretty much knows that they should stop and wait for the downhill person to go by."
Yzerman, who rides his bike across the bridge every day on his way to work, says it's encouraging to hear the B.C. government say the Pattullo needs to go.
"In less than five years, the bridge will no longer be in use because it will no longer be safe," Lt.-Gov. Judith Guichon said Tuesday in the throne speech.
"That is why government is moving quickly to replace the Pattullo Bridge."
Budget hopes
TransLink plans to build a new, four-lane crossing that will be operational by 2023.
The B.C. NDP campaigned on replacing the bridge and New Westminster Mayor Jonathan Cote hopes funding for the project will be announced in next week's budget.
"It looks like the provincial government is prepared to step up to the plate and move that long-awaited project forward," Cote said.
"The sooner we can make decisions regarding the Pattullo Bridge replacement, the better."
Tens of thousands of vehicles cross the Pattullo every day but Yzerman believes pedestrian and bicycle traffic will increase when the new crossing is built with a dedicated bike lane in each direction.