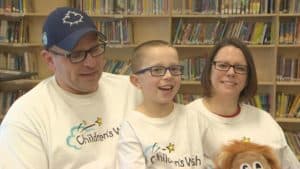 A seven-year-old boy from Paradise living with a severely underdeveloped heart is having a Valentine's Day to remember.
Isaiah Porter has a life threatening congenital heart disease, but on Wednesday, he got news that would make anyone's heart feel full.
He's going on a Disney family cruise.
"It's really special," he said.
The trip, courtesy of the Children's Wish Foundation, was announced at his Grade 2 classroom at Paradise Elementary School.
Isaiah's parents, Daina and Gary Porter, said it's set to be an exciting trip for the family.
"We are just going to celebrate all he has come through and all that the future will hold," said Daina Porter.
"Just love on him and let him know how special he is."
Growing up with a chronic illness, Isaiah has had his share of ups and downs, and had his first open heart surgery when he was just five days old.
But these days, he's happy and healthy, and his mom said the trip will be a good memory for the family to hold on to.
"When he does go through the hard times he can remember the good times," she said.
The Children's Wish Foundation said each wish typically costs around $10,000.
Paradise Elementary School and the Canadian Union of Public Employees were among those who contributed to Isaiah's trip.