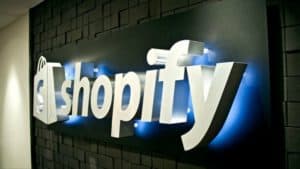 Getting exposure to the cannabis sector does not have to come from directly owning marijuana stocks. With marijuana stocks continuing to trade at bubble-like multiples, this is great news.
Yesterday, Shopify announced that the Ontario government has chosen the company's e-commerce platform for cannabis sales online and in stores, thereby ensuring a reliable, safe, and informed shopping experience.
For Shopify, this is obviously good news. Adding such a merchant to its list of clients is confidence inspiring, and it addresses a big concern that lingers with regard to this company — namely, churn rate.
A big percentage of Shopify's clients are small businesses, and the failure rate among these businesses is known to be high. So, the more established businesses that the company has as clients, the better.
Since January 2016, Shopify is up 348% amid booming revenue growth of 90% in 2016 and 72% year-over-year revenue growth in the latest quarter, the third quarter of 2017.
So, what's next for Shopify?
Shopify reports this Thursday February 15, and while highly optimistic expectations are baked in to the stock, which is trading at 20 times sales, earnings per share (EPS) are expected to be positive in 2017 to the tune of $0.06, which is a big positive.
So, with this, consensus expectations are calling for a tripling of EPS in 2018. And while earnings ratios are stratospheric, the company is clearly maintaining its momentum.
In a market that is clearly willing to pay up for growth, Shopify's stock has benefited greatly, as the company has continued to generate explosive growth. But is the valuation of the stock ahead of itself? And if so, how will this be rectified?
In my view, earnings would have to rise unrealistically quickly to make this valuation makes sense. So, that leaves us with the numerator: the share price.
The market is very optimistic about the company, and while I do see the promise, I believe the shares will fall as soon as the market's optimism fades and the shares are priced realistically.
If you like the company and its prospects, wait for this to happen and snatch the shares up when the valuation becomes more reasonable.
In summary, while Shopify trades at far more attractive multiples than the marijuana stocks, it is still also very richly valued. At this time, I would stay on the sidelines and wait, and stand ready to pull the trigger when the shares fall to more realistic levels.