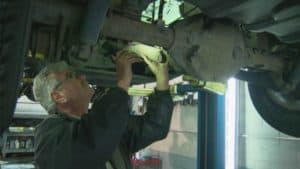 Quebec Coroner Jean Brochu hopes his latest report into a fatal crash in 2016 involving a ride-sharing service will raise awareness about the dangers of getting into a stranger's car — but his report stops short of making any recommendations to the Quebec government.
"I just wanted to make sure that people are aware that with all these enterprises of ride-sharing, there is absolutely no guarantee that things will go well," Brochu said.
Brochu's report examined a collision that occurred on Highway 40 between Ottawa and Montreal. It claimed the life of Katy Torres, a 30-year-old PhD student who was in the passenger seat of a vehicle that swerved into on-coming traffic and slammed into a van.
Torres was using the ride-sharing service Amigo Express at the time of the accident.
Jizreel Botat was also a passenger in that car, but he, along with the driver, survived the collision. He said he will never use the ride-sharing service again.
"The company is not adamant about [inspections] so the drivers aren't adamant about it [either]. It's basically a free for all, so I hold them responsible to make sure their drivers are getting proper mechanical checkups that they need before getting out on the road," Botat told CBC.
Brochu's report said that it was raining hard at the time of the crash, and also pointed to some problems with the condition of the four-year-old car.
"There was no brake left on the back wheels and the tires were absolutely smooth. The tread was zero on 32. That means there was absolutely nothing—no tread," Brochu said, adding that taxis and public transit are a safer bet.
"If you take a taxi or a bus, you know that the driver and the vehicle is subject to controls and inspections, but in cases like this you have absolutely no guarantee that the driver or the car is in good condition."
Brochu said the coroner's office discussed the idea of compulsory car inspections, but stopped short of recommending such a law.
"I'm not sure it would be accepted in the population in general. I think it should be common sense to take care of your car," Brochu said.
More harm than good?
According to George Iny, president of the Automobile Protection Association, making inspections mandatory for the four million cars in the province could do more harm than good.
"I'm certain that ride-sharing is so fragile right now as it is, that if that were brought in, it would probably mean that the whole model would fall apart."
Iny said that a basic inspection can cost anywhere between $50 to $80.
"We know of provinces where you have mandatory vehicle inspections, and they do not have better road statistics than Quebec," Iny said.
Instead he suggests a system where customers give ratings and feedback about the vehicle they were in, similar to Uber's model, or perhaps the company can also ask to see documentation.
"A ride-sharing company could ask for some record of maintenance — paperwork even. They wouldn't necessarily be running an inspection program, but…after a certain number of kilometres or age, then you start to have the cars inspected."
CBC reached out to Amigo Express. The company said it would support a government initiative for car inspections.
"We welcome the possibility of imposing periodic mechanical inspections of vehicles, as is done in Japan and in several European Union countries, mainly for older vehicles," a spokesperson said in an email statement.
The SAAQ, Quebec's automobile insurance board, refused to comment.