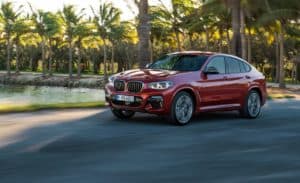 Given the first version's sales success, a second-generation BMW X4 was sure to emerge soon after its recently redesigned platform-mate, the X3. Lower, longer, and marginally wider than both its predecessor and the boxier X3, the 2019 BMW X4 trades outright versatility for style courtesy of a fastback roofline.
The new X4's optical allure is turned up to 11 thanks to a rear end that adopts styling cues similar to those on the 8-series concept car. Attractive L-shaped taillights and a license-plate mounting point relocated to the rear bumper give the SUV's tail a more dynamic shape than before. For better or worse, though, the X4 still shares its front-end styling with the more workaday X3.
Likewise, the X4 cribs the X3's two powertrains: A 248-hp turbocharged 2.0-liter inline-four powers the X4 xDrive30i, while the performance-oriented X4 M40i uses a 355-hp turbocharged 3.0-liter inline-six. Both models employ an eight-speed automatic transmission and come standard with all-wheel drive.
BMW claims the X4 xDrive30i can accelerate from zero to 60 mph in 6.0 seconds, and the X4 M40i will reportedly do the deed in 4.6 seconds. We hustled a 2018 BMW X3 M40i to 60 mph in 4.4 seconds and would wager that the X4 M40i will match that figure.
Those more interested in technology than performance will be happy to learn that the X4 adopts a number of new comfort and convenience features in its redesigned cabin. Notably, every X4 comes standard with a giant 10.3-inch touchscreen by which occupants can control its infotainment and navigation functions, as well as LED head- and taillights and a forward-collision-warning system with low-speed automated emergency braking. A head-up display and a panoramic sunroof are optional, as are additional active-safety features such as adaptive cruise control and lane-keeping assist.
Interior space improves from the previous model, with rear-seat passengers gaining an extra inch of legroom while cargo space expands by a cubic foot with all seats in place. Still, the X4's 19-cubic-foot cargo bay is a good 10 cubes smaller than the square-back X3's.
The 2019 BMW X4 goes on sale in July with a base price of $51,445 for the xDrive30i and $61,445 for the higher-performing M40i.