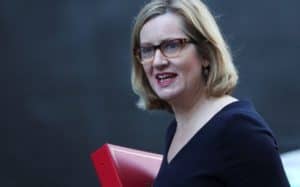 The Home Office has joined forces with a start-up to create a machine learning programme which can spot online extremism.
The £600,000 software can automatically detect Isil propaganda and stop it from going online, and ministers claim the new tool can detect 94 per cent of Isil propaganda with 99.9 per cent accuracy.
However, the developers, London start-up ASI Data Science, told BuzzFeed it will be deployed across Facebook, Twitter or Google, and the Home Office said it is still looking for smaller tech companies which want to use the software.
The artificial intelligence device, developed in partnership with London start-up ASI Data Science, means that if one million randomly selected videos were analysed, just 50 would need to be subject to human review.
The tool can be integrated into the upload process of any online video-sharing platform and the Government believes it could stop the majority of propaganda from ever being published.
Many internet giants have already developed similar technology but the Home Office plans to share the methodology with smaller web companies which are increasingly being targeted by Isil as a way of disseminating extreme material.
Amber Rudd explained: "It's a very convincing example of the fact that you can have the information you need to make sure this material doesn't go online in the first place.
"The technology is there. There are tools out there that can do exactly what we're asking for. For smaller companies, this could be ideal."
The announcement of the development of the technology comes as Home Office analysis showed that Isil supporters used more than 400 unique online platforms to publish material in 2017.
Amber Rudd, the Home Secretary, welcomed the new technology as she visited Silicon Valley for meetings with communications firms to discuss the need to do more to tackle online terror content.
She said: "The purpose of these videos is to incite violence in our communities, recruit people to their cause, and attempt to spread fear in our society.
"We know that automatic technology like this, can heavily disrupt the terrorists' actions, as well as prevent people from ever being exploited to these horrific images."
The technology was developed by the Home Office and ASI Data Science and it uses advanced machine learning to analyse video to determine whether it could be Isil propaganda.
The software has effectively been "trained" using more than 1,000 Isil videos so that it can spot the telltale signs of terrorist propaganda.