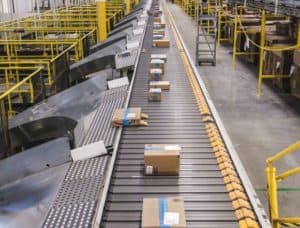 Ahead of its fourth-quarter earnings report, investors had big expectations for Amazon.com (NASDAQ: AMZN). Yet somehow it still managed to crush expectations, delivering year-over-year revenue growth of 38% and earnings-per-share growth of 144%.
But there's far more to Amazon's fourth quarter than its record revenue or even its enormous guidance. A close look at its report reveals a handful of easily overlooked insights for investors, including huge growth in subscription services and Amazon Web Services (AWS) revenue, a surprising jump in its North America segment's net sales, and an accelerating pace of feature launches for AWS.
1. Subscription revenue was up 49%
Online subscriptions are all the rage right now — and Amazon knows it. Revenue for online subscriptions to services like its Amazon Prime membership, Audible, Prime Video, and Prime Music Unlimited was up 49% year over year, handily outpacing the 20% year-over-year revenue growth from its online store segment, which includes sales of products and digital media content.
Subscription services revenue was $3.2 billion, accounting for 5.3% of total revenue. This was up from 4.9% in the year-ago quarter.
2. AWS revenue climbed 45%
As the main driver of operating profits, Amazon's cloud computing business was closely watched by investors. Fortunately for them, growth in this already fast-growing business accelerated in Q4. AWS revenue increased 45% year over year in Q4, up from a growth rate of 42% in Q3.
This rapid revenue in AWS comes as tens of thousands of companies migrate their data to AWS. "In its second year of availability, the number of databases migrated to AWS in 2017 using the AWS Database Migration Service is accelerating — growing more than 100% over 2016 to a total of more than 54,000 databases migrated since the introduction of the service," Amazon said.
3. AWS launched 1,430 significant new services and features in 2017
Speaking of AWS, it's easy to see why companies are moving their data to the cloud computing platform in droves. Amazon said AWS launched 1,430 significant new features and services in 2017, up about 41% from the 1,017 it released last year. Furthermore, an impressive 497 of these new features were launched in the fourth quarter alone.
4. North America revenue increased 22%
If you thought Amazon's rapid growth was tapering off in its core North American market, think again. Net sales there, excluding AWS, were up 22% year over year during Q4. This compares to 18% year-over-year growth internationally when leaving out AWS sales.
It's encouraging to see such strong growth in North America since the segment accounts for 60% of net sales.
With catalysts like this, management's guidance for 34% to 42% year-over-year revenue growth in its first quarter not only begins to look achievable but even conservative.