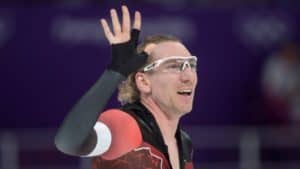 GANGNEUNG, Korea, Republic Of — Canadian long-track speedskater Ted-Jan Bloemen has won a silver medal at the Pyeongchang Winter Olympics.
Bloemen was edged off the top of podium in the men's 5,000 metres by legendary Dutchman Sven Kramer, who broke his own Olympic record to take his third straight gold in the event in six minutes 9.76 seconds.
The world-record holder in the event, Bloemen finished in 6:11.616. He edged Norway's Sverre Lunde Pedersen by two hundredths of a second.
"That perfect race where you get into a flow and just fly to the finish, it doesn't always happen and it didn't happen today," Bloemen said. "But I made the most out of it and I got everything out of myself that I had. I'm a little bit disappointed that I didn't have more to give today. But overall I'm really happy and really proud to be on the podium and it's a really big reward for my whole team."
Bloemen said he didn't know if he had beaten Pedersen when he crossed the finish line.
"I was just trying to catch that guy in front of me. I was so tired I could barely stand on my legs but just taking every risk and giving it all to get ahead."
Asked if he knew Kramer would beat his time, Bloemen said: "Yes, because I knew it wasn't a great race. So I expected him to beat it. But I think it was still fairly close."
It was Canada's third medal of the day at the Games after snowboarders Max Parrot and Mark McMorris took silver and bronze in the men's slopestyle.
The 31-year-old Kramer, a four-time Olympian who has dominated the sport, won the event in Vancouver in 2010 and Sochi in 2014.
Coming into Pyeongchang, Kramer's Olympic medal tally stood at three gold, two silver and two bronze. He has won the world all-round championship nine straight years and set the Olympic 5,000 record (6:10.76) in Sochi.
The Dutch-born Bloemen holds world records in the 5,000 (6.01.86) and 10,000 (12:36.30), erasing marks set by Kramer. The 31-year-old from Calgary was making his Olympic debut.
The Olympic 10,000 metres is set for Feb. 15 with the team pursuit Feb. 21.
Bloemen's father Gerhard-Jan was born in Bathurst, N.B., and lived in Canada for seven years before his family returned to the Netherlands in 1964. Ted-Jan Bloemen made the move back to Canada in June 2014, finding a speedskating home after spinning his wheels in the talent-rich Dutch system and missing out on Sochi selection.
Kramer is chasing Finland's Clas Thunberg and American Eric Heiden, who both have won five Olympic speed skating golds.