Beljan Developments hopes to refurbish the 1950s-era building into a commercial, residential and office hub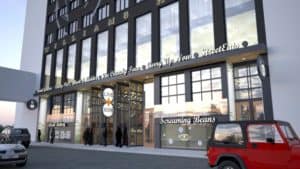 Three months after Edmonton's downtown YMCA centre closed its doors, a developer has released plans to revitalize the building into a multipurpose office, retail and apartment space.
Beljan Developments purchased the building next to the Sutton Place Hotel on 102A Avenue with plans to gut its insides and replace them with food and retail options on the first and second floors, office space on the third floor and 85 to 90 small apartments in the remainder.
The apartments are expected to be between 225 and 400 square feet, and furnished with small, moveable furniture. Rent is expected to cost around $1,000 a month.
Ivan Beljan, owner of Beljan Developments, said that while many companies may knock down old buildings to start fresh, he didn't want to with this project.
"Sometimes we're just too quick to start fresh because it's easier. But to me, easier isn't always the right path," Beljan told CBC's Edmonton AM. "When you can carry a story forward … I just think people love that."
Saving old buildings
Beljan was born and raised in Edmonton and has made it a personal goal to maintain and refurbish as many of the old buildings as he can.
His company is working on designs for other older buildings in the city, like the Metals Building on 101st Avenue and 104th Street, as well as the Dominion Hotel on Whyte Avenue.
He said the city has lost too many buildings with character over the past 40 years and preserving what's left to make the city more walkable in some areas is his goal.
"We have such [few character buildings] in Edmonton that it's a real purpose and passion of ours to save these buildings and the stories that are associated with them," he said.
Beljan hopes to make the area around the YMCA building more inviting to pedestrians.
"I'd say [it's] one of the worst streets of downtown in the sense of architecture and walkability and being inviting for people to walk down," Beljan said.
"The building itself does a really poor job of connecting to the street."
The YMCA building was built in the 1950s, with additions in the 1960s that made it into the multipurpose building it was before it closed last October. "It's a real dog's breakfast of uses and areas," Beljan said.
The building had pools, a gymnasium, fitness areas, administration offices and affordable housing in it. But the YMCA had to close it after years of running deficits — coupled with the amount of money it'd cost for repairs.
But Beljan sees potential. "As long as the bones are good, it already gives you a head start," he said.
Beljan said he recognizes the need for less expensive housing options in the downtown core.
"Our goal would be, let's say, a person who just recently graduated from MacEwan [University] and have their first job out of school, working for TD Financial," he said.
But most of all, he recognizes the increased desire for walkable parts of the city.
"We have an endless amount of work here to help improve the city to make it more walkable," he said. "There's a whole movement now of changing Edmonton and the attitude and being proud of Edmonton."