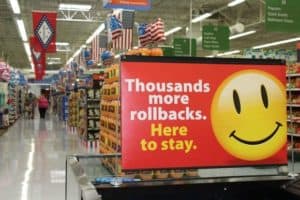 Wal-Mart (NYSE: WMT) is often considered an American retailer, but its international stores actually account for over half of its total stores. Wal-Mart has a presence in 28 countries under 59 banners, but two of its most important markets are China and India.
Wal-Mart currently operates 424 stores in China and just 20 locations in India. Both figures pale in comparison to its 4,752 namesake stores in the US, but the company has been expanding in both markets over the past few years.
How Wal-Mart is expanding in China
Wal-Mart opened its first Supercenter and Sam's Club in Shenzhen in 1996. The company's brick-and-mortar presence gradually grew, but faced tough competition from bigger superstore chain operators like Suning and Sun Art.
Meanwhile, Alibaba (NYSE: BABA) expanded its e-commerce ecosystem by buying department store operator InTime and stakes in Suning, Sun Art, and supermarket chain Lianhua. Those moves, which blurred the lines between Alibaba's online and offline retail ecosystems, were tough for Wal-Mart to counter.
Wal-Mart's first online play in China, its purchase of e-commerce site Yihaodian, couldn't gain much momentum against Alibaba. In 2016, Wal-Mart abandoned that strategy and bought a stake (funded by the sale of Yihaodian's assets) in Alibaba's top rival, JD.com (NASDAQ: JD). Wal-Mart initially acquired 5% of JD through that deal, but eventually boosted its stake to 12%.
This turned Wal-Mart into an ally of Tencent (NASDAQOTH: TCEHY), which owns 21% of JD. Last October, Wal-Mart, Tencent, and JD revealed a massive partnership in which the three companies would share their customer data, offer streamlined orders (via WeChat Pay), introduce cross-promotions between their online platforms, and assist each other in fulfilling online orders. JD.com also started using Wal-Mart's stores to fulfill orders for its New Dada crowd-sourced food delivery platform.
How Wal-Mart is expanding into India
In India, Wal-Mart opened its first store in Amritsar in 2009. All 20 of its stores are now operated under the Best Price banner. Best Price stores are typically large, at about 50,000 square feet, and sell a wide range of groceries and general merchandise at wholesale prices.
Wal-Mart has taken baby steps in India compared to its strides in China. However, recent reports indicate that it could buy a 15%-20% stake in Flipkart, Amazon's (NASDAQ: AMZN) biggest rival in India.
Reuters claims that Wal-Mart held talks with Flipkart over the past two years, and that the two companies signed a non-disclosure pact in 2016 which was renewed last year. Many other companies previously invested in Flipkart as an anti-Amazon or anti-Alibaba play in India, including Japanese telco Softbank Group, Tencent, Microsoft, and eBay.
However, those investments inflated Flipkart's valuation to about $18 billion according to business intelligence platform Paper.vc. Buying a minority stake could be costly for Wal-Mart, and might offer weaker returns than its investment in JD in China.
Why investors should pay attention
Wal-Mart doesn't break down its overseas sales by country, but its international revenues grew 4% annually last quarter and accounted for 24% of its top line. By comparison, its improving US business also posted 4% sales growth and accounted for 64% of its top line.
The problem for Wal-Mart is that its international growth, especially in hot markets like China and India, should be outpacing its domestic growth. China's GDP is expected to grow 6.5% this year, while India's GDP is expected to rise 6.8%.
Both countries have growing middle classes with rising spending power, making them ideal growth markets for retailers like Wal-Mart. However, Wal-Mart needs to secure smart alliances — like JD.com and Tencent in China, and Flipkart in India — to tap into that growth.