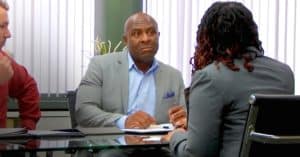 Work-life balance isn't a topic you should broach during an interview, says Barry Drexler, an expert interview coach who has conducted more than 10,000 interviews. Although employers say that they want workers to prioritize their personal lives, he says it's all talk.
His advice? Don't ask an employer, "What's the work-life balance for this role?"
"Companies talk the talk about having a great work-life balance," says Drexler, who has over 30 years of HR experience at notable companies like Lehman Brothers and Lloyds Banking Group. "At the end of the day, they want work out of you. It's just talk."
When you ask hiring managers about the company's work-life balance, here's what they hear, according to Drexler: "I want to socialize and I'm only going to stay from nine to five, and at five o'clock I'm out the door."
This is not a candidate that any employer wants to hire, says the interview expert. The hiring manager will assume that you're too focused on your personal life and will peg you as a "nine-to-fiver."
As cynical as this may sound, says Drexler, employers just want to see two things: an applicant who is ready to work and one who will work around the clock if it comes to that.
Along those same lines, the interview coach includes these other questions to avoid :
1. "How much time do I get off?"
2. "Will there be overtime?" (unless you note that you're willing to work overtime)
3. "Will I have to work weekends?" (unless you note that you're willing to work weekends)
4. "When do I leave at the end of the day?"
However, there are certain questions you can ask that will tease out the level of work that's required. "But you want to put it in a positive way," says Drexler.
He gives these examples:
1. "I don't have any personal limitations that would prevent me from working overtime or weekends. Would that be something that you'd want from me?"
2. "I'm ready to work evenings and weekends if you need me to. Is that something that's inherent in this position?"
3. "Will I need to be reached in off hours? If so, how often?"
Drexler adds that as you go through the interview, the employer will likely breakdown what the position entails. This will give you an idea of how much work is expected from you. "You can get a sense for whether you'll be killing yourself," he says.
However, he says that certain roles are just obvious when it comes to the major imbalance between your work life and personal life.
"Someone at Goldman Sachs, if you join as an analyst, you won't see daylight," says the interview coach. "There's no way around it. You don't even have to ask."
Physicians and attorneys are other roles that will require long hours. "It's just the nature of the career you've chosen," says Drexler. "There's no point even fighting it. Just find a new career if you don't want to put those hours in."
"I'm not suggesting that [work-life balance] is not important or that a company should work you to death," he adds, "but don't bring it up in an interview."