Cornerstone Baptist Church is offering over 200 dresses, along with purses, shoes and jewelry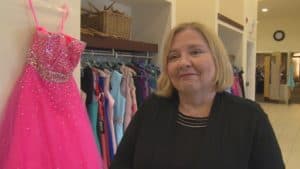 A church in Cornwall, P.E.I., is helping high school graduates get all dolled up for prom.
The Cornerstone Baptist Church in Cornwall has collected more than 200 prom dresses, along with jewelry, purses and shoes that will be given away for free until Wednesday night.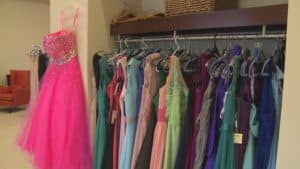 Project co-ordinator Gail Janes said the idea originated with the church pastor, who heard of a similar event in New Brunswick.
"We've had a million weddings here at the church over the last few years and the dresses are sitting in girl's closets so why not have an event where we can give girls that maybe need a bit of help a once-worn or brand new dress," she said.
The dresses and other items available have come through donations or markdowns at stores.
"It started for me last year, I was at a prom here in Charlottetown and one of the girls there could have used a bit of help with her outfit," said Janes. "It broke my heart and I thought, 'Lord there's got a be way to help a girl like that that needs some help."
The church has set up a little boutique space where girls can come in, choose a dress and try it on. Jones said they've asked girls to come by appointment and they've already helped some get closer to their dream prom.
"We've had a girl that has always wanted to go to prom and didn't think she could afford it and so she's over the moon excited," Janes said. "To see her eyes bug out when she saw the dress that she was going to try on first, it made it all worthwhile. We're so excited."