Sir Alexander Mackenzie Elementary students surprised with guitars and djembes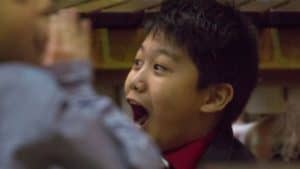 At a time when music teachers in B.C. public schools are losing their classrooms, one elementary school in Vancouver got a bonus Tuesday.
Sir Alexander Mackenzie Elementary School received $10,000 worth of guitars and djembes — a West African drum — on Tuesday through the MusiCounts Band Aid Program, a Canadian music education charity that provides schools in need with musical instruments and equipment.
"It means the world to me right now," said music teacher Jessica Da Silva.
"The value of music education has been questioned and under threat for some time. This just means I can relax a little bit and not fight the fight," said Da Silva.
The school's principal Bruce Murton said unlike some elementary schools in the province, they have enough space for a dedicated music class, but teachers and equipment are hard to come by.
Canadian pop-rock group Hedley, who are sponsors of the music education charity, gave students the instruments after taking the stage for an acoustic performance at the school's auditorium.
"For us, we really treat it and value it as an opportunity to contribute to our community and our culture in a sense. I think music in our culture may not get the attention it deserves sometimes," said Jacob Hoggard, lead singer and Abbotsford native.
Samuel Shibu, 10, from Sir Alexander Mackenzie Elementary School
Sir Alexander Mackenzie Elementary School Grade 5 student Samuel Shibu breaks out the dance moves as the school receives $10,000 worth of musical instruments. (Tina Lovgreen/CBC)
Hoggard said music was a mandatory subject when he was growing up, but it's losing ground today.
"It's almost an afterthought or this ancillary component, as opposed to a priority. Not that it needs to take over the STEM skills [science, technology, engineering and mathematics], but acknowledging that it matters, that it counts and it should be necessary in a fulfilled development"
In its 21st year, MusiCounts provides grants of $5,000 or $10,000 to schools in need all across Canada.
This year's other winners will be announced later.