Busy mountain route from Alberta to Radium, B.C., has no cellphone coverage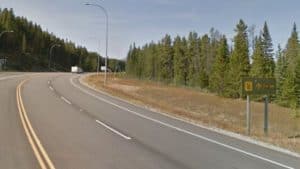 Drivers who travel the isolated stretch of highway from Castle Junction at the Alberta border to Radium, B.C., can feel a little bit safer thanks to a new emergency call box.
Parks Canada recently decided to make the roadside phone on Highway 93 — which had been just for use by staff — available to the public.
That came as welcome news to a citizen's group that has long lobbied for improved communications along the mountain route.
"They have now allowed the public to use a telephone that's been really there for many, many years, used by park staff at Kootenay Crossing as an emergency phone. So that's a great first step," said Kootenay-Columbia MP Wayne Stetski.
Stetski says a committee of area residents spent more than a year looking for ways to install a solar powered call box for emergencies — only to discover Parks Canada already has one at the highway's midway point.
The committee is chaired by Tracy Litchfield, who was surprised that what her group had been looking for was there all along.
"Well that's kind of water under the bridge now, and I think probably what we need to concentrate on is the fact that we have access to it now and the public can be more connected and feel safer."
Roughly 5,000 people per day drive the 100-kilometre stretch of Highway 93, which has no cellphone coverage.
Litchfield's group is now working to convince Parks Canada to install signage to alert drivers that the call box is there.
A Parks Canada spokesperson told CBC News that while there are no plans in place, they are looking into it.