A 6,000-square-foot space will replace the 4 rooms in the QEH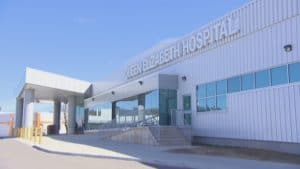 Islanders dealing with kidney failure or recovering from a kidney transplant will soon have a new dedicated space at the Queen Elizabeth Hospital in Charlottetown.
Construction starts Monday on a new Provincial Renal Clinic and is expected to take nine months.
"The better you manage a patient before dialysis, the better the outcome is for the patient," says Dr. Derek Chaudhary.
"Dialysis is really the last option, not a first choice, and if we can delay the progression of their renal disease it really helps the system but most importantly helps the patient and their families."
The 6,000-square-foot space will replace the four rooms in the QEH currently dedicated to post-transplant care and other services.
The province started offering new renal services to patients two years ago.
Until then, patients had to travel to Halifax for post-transplant care.
'We need to have more space'
That was also the case for patients who needed lessons in administering peritoneal dialysis — a kind of dialysis that can be done at home and is often used by those in the earlier stages of kidney failure.
Peritoneal dialysis, post-transplant care, and ongoing appointments for those with early onset kidney disease are now offered at the QEH.
However, Sheryl Banks, the director of the province's renal program, said space is tight as there's about 12 health-care specialists split between just four rooms.
"As you can imagine, having all of those people squeeze into four spaces is making it very difficult to be able to see patients in a timely manner," Banks said.
"What we're finding is that our patients are having to wait for longer periods of time than what we would like simply because the rooms that are available are in use, so we need to have more space to be able to provide that service."
The new clinic will have eight patient treatment rooms, as well as a dedicated teaching room, a family room, office space, meeting rooms and a reception area.
Health PEI estimates the total cost of the upgrade at about $2 million.