Powerful winter storm forces school, road closures in Gaspé
Hydro-Québec worked to restore power to thousands who were left in the dark by the freezing rain storm.
By mid-afternoon, only a few hundred clients were still without electricity.
Environment Canada also lifted its freezing rain warning across southern Quebec.
Montreal will see clear skies for the rest of the day. It's best to bundle up because it will be cold tonight, with a predicted low of –18 C.
While most students headed back to school today, Mountainview Elementary School in Otterburn Park was closed due to a power failure.
On Montreal's South Shore, the Commission scolaire des Patriotes also closed École Le Rucher, École Carignan-Salières Carignan and the Centre de formation professionnelle des Patriotes.
Powerful storm still underway in Gaspé
A winter storm warning was still in effect for several regions, including the Gaspé and Blanc-Sablon.
In the Gaspé region, the Commission scolaire René-Lévesque has once again closed its schools due to weather conditions.
Icy roads forced the partial closure of Highway 132 earlier Wednesday.
Conditions were expected to improve in the afternoon, according to the weather agency.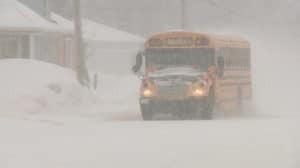 Environment Canada says visibility on the roads in Quebec City could be difficult due to high winds and blowing snow. The temperatures are expected to drop to -10 C this afternoon.
For those travelling by air, some flights are delayed or cancelled at the Quebec City airport. It's best to check the status of your flight before leaving for the airport.
Icy roads in Montreal
The cold set in after the powerful winter storm, leaving sidewalks and roads very slippery in some spots.
In Montreal, the ice brought down a tree early this morning. The southbound lanes on De Lorimier Avenue are closed between Marie-Anne and Rachel streets.
Visibility is also reduced in some areas, including on Highway 20 between Montreal and Quebec City.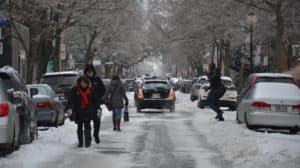 Transports Québec is asking drivers to be mindful of black ice and to slow down on the roads. Motorists should adapt their driving to the changing conditions.