Gatineau city council approved project last February, but needed provincial approval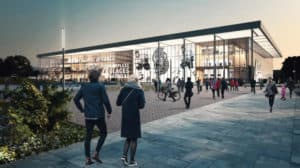 The Quebec government has given its approval to a new arena to replace Gatineau's aging Robert Guertin Centre.
Gatineau city council gave its go-ahead last February for a new arena on Boulevard de la Cité, about seven kilometres northeast of the current rink in downtown Hull, but needed the province's sign-off because the proposed site is considered protected wetland under provincial law.
Gatineau paid the province $675,000 to transfer jurisdiction over the proposed site to the city.
Gatineau Mayor Maxime Pedneaud-Jobin assured city council Tuesday night that the project, which has been plagued by delays, is finally moving forward.
"The project is progressing well, with fewer obstacles," Pedneaud-Jobin said in French.
Vision Multisports Outaouais (VMSO), which is overseeing the $104-million project, has not said when construction will begin now the province has granted its approval.
VMSO president Alain Sanscartier said it's still premature to set a date for shovels in the ground.
"When the time is right we can decide on potential start date," he said in French.
The provincial approval allows VMSO to begin seeking bids for the construction of the new arena.
The arena will be the new home of the Gatineau Olympiques.