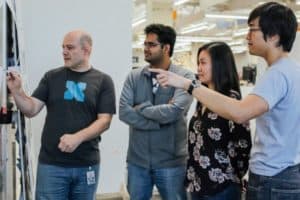 Google's parent company Alphabet recently introduced an independent cybersecurity business called Chronicle. According to CEO Stephen Gillett, Chronicle stems from a team that previously resided at Alphabet's X Development arm (aka The Moonshot Factory). The staff spent several years determining how to best attack the growing cybersecurity problem and the result is a company that now provides two services: The current malware intelligence-based VirusTotal acquired by Google in 2012, and a new cybersecurity intelligence and analytics platform.
"We want to 10 times the speed and impact of security teams' work by making it much easier, faster and more cost-effective for them to capture and analyze security signals that have previously been too difficult and expensive to find," Gillett said.
The big deal is the "planet-scale" computing power behind Chronicle's initiative. It's the same infrastructure that powers Alphabet's other services, and backed by machine learning, Google's search technology, and huge cloud-based storage capacities. Gillett believes Alphabet's powerful platform should help find and retrieve "useful" security-based information in mere minutes rather than hours or days as seen with other services.
Chronicle puts an emphasis on speed and ease to provide tools for companies to understand its volumes of data, and unlock "hidden insights." The goal is to provide security teams enough time to protect themselves against possible cyberattacks via vulnerabilities in their defenses, and the way they manage data across networks and campuses. Scale and affordability are also important factors.
One of the benefits is using machine learning to find patterns in large volumes of data. According to Chronicle, these patterns aren't easily detected by humans. Another benefit is not having another local software solution that must be maintained by IT. Instead, Chronicle will provide web-based services that can grow with the organization.
Gillett says his team already consulted with several Fortune 500 companies to help shape and steer Chronicle in the right direction. Several of these companies are now testing the new cybersecurity intelligence program by way of an early alpha program. The company's website currently doesn't provide any specific plans for enterprise customers to purchase or lease, but it does offer an email address for querying about early access. Chronicle is also open to security and channel-based partnerships.
"We're excited about being an independent company, yet part of Alphabet," Gillett said. "We'll have our own contracts and data policies with our customers, while at the same time having the benefit of being able to consult the world-class experts in machine learning and cloud computing (among many other topics) that reside in other parts of Alphabet."
Alphabet's X Development arm, formerly Google X, is a pool of moonshot thinkers that tackle global problems. Gillett joined Google Ventures in early 2016 after serving as the chief intelligence officer and general manager of Digital Ventures at Starbucks, and as the chief operating officer at Symantec. He moved over to X Development and teamed up with Mike Wiacek and Shapor Naghibzadeh, both who were longtime engineers on Google's security team.