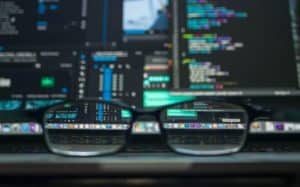 The technology sector dominated Wall Street throughout 2017, and if the market's reaction to the first wave of Q4 earnings reports is any indication, that trend should continue well into 2018. While many will feel that they have already missed their chance to win big on tech stocks, there are still plenty of opportunities to cash in as we head further into the New Year.
Of course, this is not the first notable tech rally. The cloud of the dot-com bubble still lingers over this sector, and plenty on Wall Street remain hesitant to load up on tech stocks because of it.
However, unlike the dot-com bubble, there is real earnings and revenue growth fueling this tech rally. In fact, the average P/E ratio of our "Computer and Technology" sector currently sits at 22.54, which compares favorably to the dot-com era's average that routinely soared into the 200s.
Another interesting trend in today's tech rally is that, rather than obsessing over the next big thing, investors seem to rewarding tried-and-true brands for their respectable growth. This means that some of the strongest tech stocks are the household names that consumers already know and love.
With that said, check out these three blue chip tech stocks to buy now:
1. Nvidia Corporation (NVDA)
Thanks to its strategic investments in datacenters and artificial intelligence, Nvidia has emerged as one of Wall Street's most popular stocks. Of course, the company's industry-leading GPUs remain its backbone and are the number one choice for PC gamers worldwide. Nvidia shares have gained over 122% within the past year, and now that the stock sports a Zacks Rank #2 (Buy), it is showing few signs of stopping.
Our current consensus estimates are calling for Nvidia to end the fiscal year with earnings growth of 63%, and that expansion is expected to continue with EPS growth of an additional 12% next year. Nvidia is also expected to grow its revenues by another 16% in the upcoming year. What's more, management is strengthening its financial stability with cash flow growth of 124% right now.
2. Facebook, Inc. (FB)
Facebook is the world's premiere social networking website, and through its WhatsApp and Instagram subsidiaries, the company has a stranglehold on internet advertising and communication. What's more, Facebook has invested in original content and livestreaming and now stands ready to become a dominant multimedia force for years to come. The stock is currently a Zacks Rank #2 (Buy) and is widely considered a must-own internet play.
Despite pouring money into new projects in 2017, Facebook is still projected to end the fiscal year with earnings growth of 39%. And even though management has promised to spend money on security in the upcoming year, our consensus estimates are calling for further EPS growth of 13%. Meanwhile, shares are trading at a reasonable 29x earnings, and with the stock's PEG ratio of just 1.07, investors are clearly getting a great price for that aforementioned EPS expansion.
3. Sony Corporation (SNE)
This Japanese electronics giant has a dominant position with many key products, including audio and video equipment, televisions, displays, semiconductors, electronic components, computers and computer peripherals, and telecommunication equipment. Sony is currently sporting a Zacks Rank #1 (Strong Buy) and looks like a promising tech stock for both the near term and in the coming years.
Sony shares have soared more than 65% over the past year, but the stock is still trading below 18x earnings and 0.90x sales. Meanwhile, management is generating $2.93 in cash per share, which should strengthen the company's ability to invest in new technologies. Thanks to softer year-over-year comparisons, earnings growth is expected to fall in the triple digits this fiscal year, but that expansion is expected to continue with EPS growth of 8% next year.
Bottom Line
While there are no guarantees in the stock market, several bullish indicators point to continued strength in the tech sector. With corporate tax reform on the horizon and earnings growth already present, these blue-chip tech companies should be able to continue their dominance.