This year a total of $62,881.57 was provided to fund 44 Family CARE grants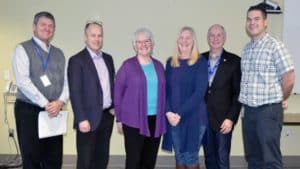 Staff at the Thunder Bay Regional Health Sciences Centre are celebrating their achievements on Tuesday thanks to a generous funding of $62,881.57 from hospital donors and the volunteer association.
Officials at the hospital released a written statement thanking the participants for tirelessly applying for grants for the past nine years, that "make a significant difference to patient care."
This year, with a total of over $62,000, the hospital was able to receive 44 Care Advancements Recommended by Employees (CARE) Grants ranging anywhere from $82 to $4000.
"We have the most outstanding employees here at the hospital. They really go above and beyond for our patients and take the time to apply for these grants so that patient care can be improve," hospital's Chief of Staff, Gordon Porter stated on Tuesday.
The money which comes from the hospital foundation along with the Volunteer Association helps fund the purchase of equipment such as a new wheelchair, a couch for the NICU waiting room as well as several walkers and raised cushions to assist patients recovering from orthopaedic surgery.
"Our budget pressures are immense and, without this funding, we wouldn't be able to provide these pieces of equipment that really do enhance the care patients receive at our hospital," said Peter Myllymaa, the Executive Vice President of Corporate Services and Operations at the Thunder Bay Hospital.
Through the CARE grant, the hospital can purchase new tools for the Pediatric Department like a bubble tube that can be used as a distraction when a procedure is performed, as well as equipment to help seniors stand and walk on their own.
"If you've ever spent any time with patients at our hospital, you see what a difference this equipment makes…[and] something so simple as having a place to rest can meant the world of difference," said Cathy Britt, the Vice President for the hospital's Volunteer Association.