U.S. tax reform and higher commodity prices are tailwinds for the stock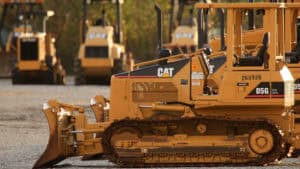 Caterpillar Inc. is riding a wave of optimism about makers of heavy machinery, and this week's quarterly report will be closely watched for its potential to set the tone for the year.
Caterpillar CAT, -0.85% is scheduled to report fourth-quarter earnings before the bell on Thursday amid a rally for the stock.
Industrial companies in general, and heavy-machinery makers in particular, are viewed as strong beneficiaries of the U.S. tax overhaul and of global trends such as rising prices for oil, copper, and other commodities, as well as growing infrastructure investments.
Caterpillar, however, has bulldozed Wall Street expectations lately. Shares have surged in the last 12 months, and some analysts say there's more room to grow. The stock hit a record high of $170.89 on Monday, up nearly 8% so far for the month.
Earnings: Analysts surveyed by FactSet expect Caterpillar to report adjusted earnings of $1.77 a share in the quarter, compared with adjusted earnings of 83 cents a share in the fourth quarter of 2016. Caterpillar posted a GAAP loss of $2 a share in the year-ago period.
Estimize, a crowdsourcing platform that gathers estimates from Wall Street analysts as well as buy-side analysts, hedge-fund managers, company executives, academics and others, has projected an adjusted profit of $1.83 a share.
Stock reaction: Caterpillar's stock has roared in recent months, and it's up more than 80% in the past 12 months, easily outpacing gains of around 25% for the S&P 500 index SPX, +0.22% and 32% for the Dow Jones Industrial Average. DJIA, -0.01%
The shares last posted a monthly loss in March, and notched gains above 10% and above 11% in May and December.
Other issues: Analysts at Seaport Global upgraded their rating on Caterpillar stock to buy from neutral on Tuesday, saying that despite the recent "strong run" for the shares there may be more gains following their conversations with people in the industry.
Dealers of earth-moving equipment expect high single-digit, if not double-digit, revenue growth in 2018, and many believe that new-equipment inventories are still too low, the Seaport analysts said.
Caterpillar has noted that "robust trends seen to close out 2017 are likely to last into the first part of 2018," although the company hasn't given a detailed full-year outlook, the analysts said in a report.
The respite in 2017 was preceded by a steep downturn from 2012 to 2016, when company sales and revenues dropped by more than 40%, a downtrend Chief Executive Jim Umpleby said was the longest in the 92-year-old company's history.
Analysts at Daiwa Capital Markets said they expect revenue growth in all of Caterpillar's business segments. Recent retail sales data suggest significant improvement in the resource and the engineering and transportation segments in the quarter, and the construction segment continues to show strong growth led by the Asia Pacific and Latin America regions, they said in a recent note.