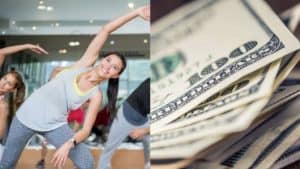 When it comes to the wellness set, a new study suggests that it's not the avocado toast or spa treatments that are breaking the budget, but pricey workout classes.
According to a study from sports and nutrition firm My Protein, Americans are now spending more on fitness than college tuition.
After surveying 1,350 adults ages 18 to 65 across the country, the company found that the average American is spending $155 per monthly on gym memberships, personal trainers, meal plans, supplements and workout gear. Totaling about $112,000 per lifetime, Moneyish notes that this pursuit of #fitspo is costlier than a public four-year college education at an average total of $98,440.
"It's expensive to be healthy, but it's more expensive to be sick," Carla Zuniga, a 35-year-old hair stylist and devotee to posh gym Prevail Boxing, told the Los Angeles Times. "I think people in my generation are more willing to invest in what challenges them and makes them healthy."
When it comes to working out, experience-loving millennials are rejecting Gen-X's penchant for treadmills and no-frills gym workouts, favoring specialty classes in high intensity-interval training, kickboxing and yoga, Moneyish notes.
In 2014, boutique fitness studios grew to represent 42 percent of the market, a 100 percent increase over the market in 2013, the outlet adds.
Carrie Morris, a brand communications specialist from New York City, told Moneyish that she has no qualms spending $500 a month on classes like spinning at SoulCycle and boxing at Gotham Gym, as an investment in not simply her physical health, but mental well-being.
"For me, at 26, that is a lot of money, but it's an expense I would never consider cutting from my budget," Morris said. "Working out is a huge stress reliever for me."