New two-lane bridge, bus pullouts, safety signs for Highway 14 in premier's home riding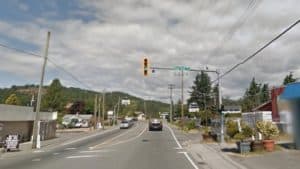 B.C. Premier John Horgan announced $10 million worth of long-awaited improvements to accident-prone Highway 14 on Friday, adding that work will begin immediately.
The spending on the first phase of changes to the highway, also known as Sooke Road, will include bus pullouts, safety signs and a new bridge on Gillespie Road, east of Sooke, as well as new or additional lighting at 18 intersections.
Further improvements, including a slow-vehicle pullout and a rest area, were announced for the section of highway that runs west of Sooke to Port Renfrew.
"All of us, not just Sooke residents, want to make sure that we reduce fatalities, we reduce accidents, and the way to do that is to get started on the solutions we're going to need now," Horgan said at a news conference next to the highway.
The road, which is the only direct connection between Sooke and Greater Victoria, is in B.C. Premier John Horgan's home riding of Langford-Juan de Fuca.
Horgan, who said he was once rear-ended on the highway when he stopped to allow a bus to pull into traffic, described the highway as challenging even on an ordinary day.
"But on an evening in November when the rain is coming down in sheets and the fog is coming in off the basin it is an extremely dangerous corridor," he said.
Horgan had pledged action to improve safety and reduce bottlenecks on the only direct link between Sooke and Victoria shortly after becoming premier-designate in July 2017.
According to statistics from ICBC, there have been nearly 600 crashes in the past decade in which people have been injured or killed while driving between Colwood and Sooke.
Matt Barney, assistant fire chief for Sooke, said he was relieved by the planned improvements, which he predicted would help reduce aggressive driving and other incidents.
Mike Hicks, the regional director for Juan de Fuca, said the announcement is "100 times better" than he expected because it includes replacement of the one-lane bridge on Gillespie Road at Roche Cove with a new two-lane span.
Gillespie Road is used as the detour route when an incident closes Sooke Road.
"If you can imagine one lane versus two, and the traffic and the problems and the road rage. It's all solved with a two-lane bridge," Hicks said.
Earlier Friday, David Evans, a Sooke coffee house owner and member of the #DividedBy14 working group that campaigned during the election for improvements to the busy route, told On the Island host Gregor Craigie he received a phone call from the premier Thursday personally inviting him to the announcement.
Evans said he hopes improvements will eventually extend to straightening a particularly twisting and winding stretch of Highway 14 between Connie Road and Manzer Road.
"It's a wonderful and very scenic road to drive for 250 days of the year, when it's clear and light out, but it's also a very scary white-knuckle road for very inexperienced drivers or someone who's not familiar with the area," he said.