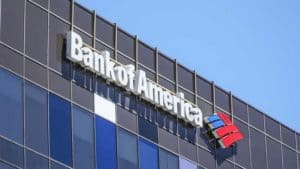 Here's your Investing Action Plan for Wednesday: what you need to know as an investor for the coming day.
Earnings season starts to kick into higher gear with results from Bank of America (BAC), Goldman Sachs (GS), Alcoa (AA), and ASML Holding (ASML). Meanwhile, key reports on the global economy are due, including China's GDP growth in the fourth quarter.
Bank of America
The financial giant reports before the market opens.
Estimates: EPS to rise 10% to 44 cents, on a 6.5% revenue increase to $21.28 billion, according to Zacks Investment Research.
Stock: Shares closed up 0.2% at 31.24 on the stock market today, still well-extended above buying range.
The report follows strong results from Citigroup (C) on Tuesday, while JPMorgan Chase (JPM) beat on Friday and Wells Fargo (WFC) was mixed.
Like other big banks, Bank of America has booked a $3 billion write-down on the tax cuts that were enacted recently, lowering the value of deferred tax assets. But bank executives remain bullish that tax cuts will boost earnings longer term.
Goldman Sachs
The investment bank reports before the market opens
Estimates: EPS is expected to fall 3.5% to $4.90 as revenue slips 6.6% to $7.63 billion.
Stock: Shares rose 0.6% to 258.46, hovering near the upper limit of buying territory.
Goldman has said that its earnings would be crimped by about $5 billion, mostly from the repatriation tax that's included in the tax law.
Low market volatility also has weighed on trading revenue, and results from JPMorgan and Citigroup point to a continuation in that trend that will show up on Goldman's quarterly figures too. In Q4, JPMorgan's fixed-income, credit and currency trading revenue tumbled 34% to $2.22 billion, and Citigroup's sank 18% to $2.4 billion.
Goldman's investment banking rival, Morgan Stanley (MS), reports Thursday. Regional lending giant US Bancorp (USB) also reports Wednesday.
ASML
The maker of lithography systems used in the fabrication of integrated circuits reports before the market opens.
Estimates: EPS to dip 3% to $1.25, with revenue rising 22% to $2.5 billion.
Stock: Shares gapped up 3% to 186.38, clearing a 186.47 buy point, but the relative strength line remains below the cup base's peak, which suggests greater odds that the breakout won't be sustained. ASML's RS line did hit a very short term high.
On Tuesday, the stock's positive rating was reiterated at Susquehanna Financial Group, which said ASML is being driven by a strong product cycle for its extreme ultraviolet lithography system. Credit Suisse on Monday upgraded ASML to outperform from neutral.
Other Earnings
Alcoa will announce Q4 results after the stock market closes. The aluminum producer is expected to report EPS of $1.23, up from 14 cents a year ago, and revenue of $3.35 billion, up 32%.
Charles Schwab (SCHW) reports early, and the brokerage's EPS is seen rising 13.9% to 41 cents as revenue increases 13.8% to $2.24 billion.
Fastenal (FAST) reports early, and analysts see the industrial distributor's EPS climbing 12.5% to 45 cents, with revenue up 14% to $1.08 billion.
Economic Indicators
At 9:15 a.m. ET, the Federal Reserve releases its industrial production report for December, and analysts see the monthly gain accelerating to 0.4% from 0.2% in the prior month. At 10 a.m., the National Association of Home Builders will come out with its builder confidence survey for January, and it is expected to dip to a still-high 73 from 74 in December. At 2 p.m., the Fed issues its Beige Book survey of business conditions from around the country ahead of the central bank's next policy meeting at the end of the month.
Late Wednesday evening, China will release its Q4 GDP report, and analysts see yearly growth cooling to 6.7% from 6.8% in the prior quarterly. December stats for China's retail sales, industrial production and home prices will also come out.