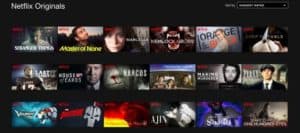 Shares of Netflix NFLX climbed to hit a new all-time intraday high on Monday, only one week before the company is scheduled to report Q4 earnings. As Netflix and investors gear up for Jan. 22, one metric remains king for the online streaming giant: user growth.
Before today's jump, Netflix had seen its stock price climb more than 71% over the last 52-weeks, based in large part on the company's ability to grow its user base.
So far in fiscal 2017, Netflix has added 15.45 million new subscribers, which marks a 29% year-over-year climb. What might surprise some investors is that of these new users, 12.12 million have come from outside of the U.S.
The company added 5.30 million new users in the third-quarter, which helped Netflix's Q3 revenues surge 30.03% year-over-year to hit $2.99 billion. The company now projects to post full-year sales of over $11 billion, a projection that our current Zacks Consensus Estimates support (also read: Netflix Hits New High Ahead of Earnings: Should You Buy?).
Going forward, Netflix hopes to improve its international profitability and continue to expand its original content offerings. The company has also raised the prices for its HD and 4K streaming plans. But for Netflix, quarter-over-quarter user growth has become all-important, especially because of its subscription-first business model.
Companies who make most of their money through advertisements, such as Facebook FB and Snapchat SNAP, must serve more ads without distracting from the core product. But Netflix's subscription model means that it does not have that problem.
Just last week, Macquarie Research analysts upgraded Netflix shares from neutral to outperform. In a note to clients, the analysts pointed to Netflix's subscription model as a key reason for the upgrade.
Netflix projects that it will add 6.30 million new users in the fourth-quarter. The Los Gatos, California-based firm expects to add 1.25 million subscribers in the U.S. and 5.05 subscribers from outside of the U.S. Netflix expects to close 2017 with 115.55 million total subscribers, spanning more than190 countries.
Another reason that user growth is one of the only figures that investors need to truly pay attention to is because it is a metric that helps show how successful the company's investments in original content have been.
In 2017, Netflix reportedly spent $6 billion to launch 30 new original shows. The company expects to up its spending in 2018 to $8 billion. Netflix now has 88 original scripted series, while Time Warner's TWX HBO has 21, Amazon AMZN owns 28, and Hulu boasts 17.
For Netflix, competition from the likes of Amazon and Hulu has forced the company to invest heavily in more original content in order to attract and even poach new users. Disney's DIS move to end its relationship with Netflix ahead of the launch of its own over-the-top streaming service has also motivated the company to bolster its original content offerings. For now, the move to spend billions on its own programming seems to have paid off.