'Glen's just a guy that everyone's always admired,' says Park Board Commissioner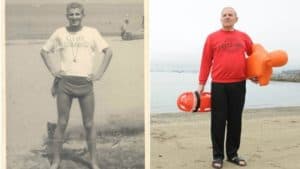 After 58 years watching over Vancouver's pools and beaches, lifeguard Glenn Schultz has hung up his whistle.
At age 75, Schultz retired at the end of last year.
"I have had a great career in aquatics, in a job I love, but there comes a time when you must move over to let others take over.
"I have stayed 10 years past my original retirement date and have enjoyed it all," said Schultz.
Much has changed over those six decades of work, says Schultz. Back in the 1960s and 70s, smoking and bonfires were still permitted on beaches, as were inner tubes and inflatable devices on the water. It cost 15 cents to dress and undress in changing rooms.
Schultz said a couple of his uncles were lifeguards, but initially he wasn't keen on the profession, until, at the age 16, while swimming at Vancouver's Locarno Beach, he spotted a boy drowning.
"When I saw his eyes that were as big as saucers, I knew he was in big trouble. So, I jumped in and grabbed him," said Schultz.
"After I rescued him, I felt really good, and I said 'Hey, maybe this is a job I want to do,' and so I went to lifeguard school the next winter."
Schultz began his career in 1960, at age 17, working as an auxiliary outdoor lifeguard at Locarno beach.
It wasn't long after that when he had his most memorable save. It occurred during a hot July night when an eight-year-old, in the water, girl disappeared from an inner tube.
"I scanned down one end of the beach, and I came back slowly cause there was so many people in the water, and by the time I turned around I saw an empty inner tube there."
"I started to move that way quickly. I thought, 'My gosh she's got to be there somewhere,' and luckily I saw two fingers come out of the water … So, I ran down the beach about 50 yards, dove in, headed straight for the bottom, and I caught her settling on the bottom," said Schultz.
"I brought her up and she screamed like you wouldn't believe, and her dad came running from up by the car
"He says [he] went up to get a package of cigarettes, and I said that package of cigarettes almost cost your daughter her life."
Schultz worked at every aquatic facility for Vancouver's Park Board before taking his final post, which he held for the last 37 years, as the supervisor for beaches and outdoor pools.
Vancouver Parks and Recreation Commissioner Michael Wiebe, who is also a former lifeguard, said he first met Schultz when he was a teenager.
"Glen's just a guy that everyone's always admired … He's always been involved in volunteer work, and was really instrumental I think in a lot of the lifeguards moving on and doing amazing things with their lives," said Wiebe.
"I think a lot of people respect and understand our beaches better because of the traditions that he's been able to keep."
Schultz says he doesn't have many plans for retirement, besides doing a bit of travelling and spending time with family.
As for what he will miss most about the job, he says it's the people.