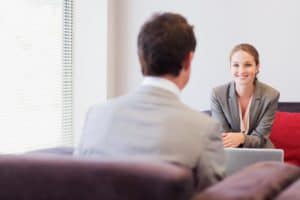 The new CNBC show "The Job Interview" puts the spotlight on a stressful situation that everyone worries about – sitting across from a potential employer, trying to simultaneously impress them and make sure you don't say the wrong thing. The fact that this show even exists underscores how heated and competitive the job market has become.
Of course, the interview is all-important when it comes to getting a job. But smart employers know that anybody can perform in their assigned role for half an hour. Anyone can "act the part." That's why employers are going beyond the basic interview, even while recognizing that it remains critical to making a hiring choice. And if employers are looking further, you need to be prepared for that. That means taking some key steps to maximize your interview opportunities.
Research carefully. Don't get caught unprepared. "The Job Interview" is full of "gotcha" moments, and real-life interviews can have those, too. You'll need to be able to ride them out. Make sure to do a thorough read-through of the company's website and fully understand their products or services. Look online – have they ever been in the news? Who are their major competitors? Who are the key players in the organization? These are the kinds of questions you should be ready and able to answer.
Be ready for the unexpected. Employers are shaking up the traditional interview. In some cases, this may just mean that more than one person will be interviewing you at one time. But some companies are taking it several steps further and conducting interviews during walks, while exercising, sometimes even during competitive basketball games. If there are activities that make you uncomfortable or you feel are downright inappropriate, that may point to a culture or work environment that is not a great fit or potentially worse.
Tell a fuller story about yourself. Take advantage of other ways to tell your story beyond the interview. Your job references can help do this for you. If possible, have references who can speak to different aspects of your career. Consider having at least one co-worker serve as a reference and, if possible, have more than one previous manager provide a reference, too. While managers will speak to your skills and abilities, a co-worker can provide more insights about your office presence and effectiveness as a teammate. In fact, we know based on job reference feedback that managers share different types of information than co-workers, based on our research published in Harvard Business Review.
This matters because in a fast-paced and team-based workplace, employers are no longer just interested in your skills (even though these are certainly important). They also want to know how well you get along with your teammates.
Be yourself. Interviewers can tell if you are being authentic. While you need to be professional, make sure to let some of your personality slip into the conversation. Employers value candidates who can be comfortable in a stressful situation. Talk about your hobbies outside of the office or about organizations that you volunteer for. You not only have to be a quality employee, but a culture fit as well. If you are looking for permanent employment, you have to work somewhere that's going to want the real you.
Relax. Everyone has at least one really bad job interview experience. One great thing about "The Job Interview" is that on its website it has plenty of video examples of interviews that go well and those that don't, as well as information from experts who analyze some of the interviews and offer advice. For example, how do you prepare for the question "Tell us about yourself"? It is more effective to prepare a personal "elevator pitch" that starts by highlighting your strengths versus simply listing a chronological work history, as one candidate did.
It's a job seeker's market right now. Even though "The Job Interview" highlights the stressful nature of the interview, you should feel good knowing that companies are competing aggressively for talent. This can translate into a better job search experience and a better hiring process. So if you come to the interview confident, prepared and armed with the right knowledge and outlook, it doesn't matter what crazy hurdle the interviewer throws at you – you'll be ready.