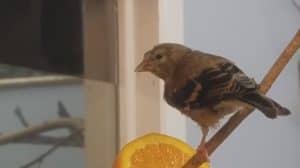 An animal rescue group is working to rehome more than 100 small birds found in a foreclosed house in Ottawa.
Jill Woods, who runs the Feathered Haven Parrot Rescue in Smiths Falls, Ont., said the birds — 106 finches and two canaries — were rescued from a "hoarding situation" on Sunday.
She said a family member of a woman evicted from the home last week contacted the Wild Bird Care Centre in Ottawa, which then contacted Feathered Haven.
Woods said it took a co-ordinated effort to get the birds out of the home, where some of the finches were in cages and others were flying free.
Volunteers had to use blankets like nets to corral the free-flying birds into cages to be rescued, she said.
"At one point there were 24 of us, including people keeping vehicles warm in case birds needed emergency transport," Woods said in a phone interview Wednesday.
The rescued birds weren't in good shape, Woods said. Two have since died and the rest are being monitored by vets, she said.
"Finches eat an awful, awful lot. They're small, they're very hyper. We found dishes of what looked like seed, but it was actually just husks. They had eaten the seeds," she said of the scene in the home, adding that seeds alone don't have enough nutritional value to keep birds healthy.
"They were stressed. The woman had been locked out of her home on Thursday, so a stranger had been trying to go in and feed them water."
Woods said she opted not to contact authorities to report the birds' former owner for negligence because it seemed as though mental illness may have been involved.
She said 10 birds have been seen by a veterinarian so far with more still to go. Veterinary fees are already at $1,700, Woods said, adding that the rescue group is struggling to keep up with costs.
After the birds are cleared by vets, Woods said she'll have to wade through adoption applications looking for people with a good understanding of finches' needs.
It's a huge undertaking, she said.
"It has to be done, though," she said. "It's just one of those things in life."