HP's CES 2018 and late 2017 announcements include a couple of firsts that show off the company's willingness to take chances on brand new technology. Its Envy x2 was the first detachable tablet announced that will leverage Qualcomm Snapdragon 835 ARM processors for long-lasting, always-connected computing, and it's recently added an Intel version. And, its updated Spectre x360 15 beat packs in Intel new 8th-gen Core with Radeon RX Vega M graphics.
Mike Nash, HP's Chief Technologist and VP of Customer Experience, Personal Systems, is high on HP's ability to respond to customer requirements with modern computing solutions. And he had plenty to say as he stopped by Digital Trends' booth at CES 2018, and discussed HP's notebook and more.
First up was a discussion of HP's first Always Connect PC based on a Qualcomm Snapdragon 835 ARM processor, the Envy x2 detachable tablet, with Nash specifically touting the machine's ability to remain connected to the internet and receive data while lasting for 16 hours or more on a charge. He also touched on the Intel version of the Envy x2 that brings greater performance, while maintaining around 12 hours of battery life.
Nash went on to discuss some of the differences between the ARM and Intel versions, including HP's decision to offer both in response to customer requests. He provided an overview of each, discussing relative strengths, and touching on what a buyer needs to consider in making a good choice between the two.
Next, Nash discussed one of the first convertible 2-in-1s to pack in Intel's new Kaby Lake-G chips, which mate an eighth-generation Intel Core i7 CPU with AMD's Radeon RX Vega M GL GPU. The 15.6-inch 2-in-1 promises gaming performance falling somewhere between the Nvidia GTX 1050 and GTX 1060 GPUs, with all the abilities of a pen-enabled notebook that converts to a (large) tablet for handwriting and drawing.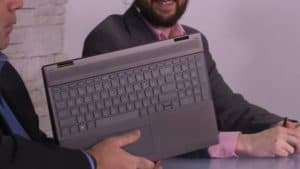 If you're wondering how HP makes its decisions on how to design its notebooks to meet customer needs, then this is the video for you. You'll learn more about how HP listens to its customers, while picking up additional details about each of HP's newest notebooks.