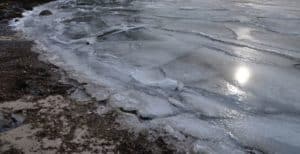 POINTE-CLAIRE, Que. — A man was rescued from the icy waters of a lake near Montreal on Saturday evening after the small tractor he was driving fell through the ice.
A spokesman for Montreal's fire department says he believes the man was working to remove the snow on a boat ramp in the western suburb of Pointe-Claire when the vehicle went into the lake at about 5 p.m.
Operations Chief Ian Ritchie says the man was able to climb onto the roof of the vehicle and wait for help.
The fire department's ice rescue team was able to extend a ladder to the man, who was taken to hospital as a precautionary measure.
The Canadian Press