Kalanick, who owns 10 per cent of Uber, resigned as CEO last year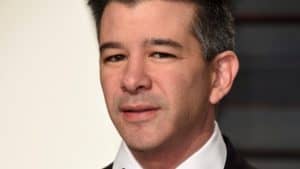 Uber co-founder and former CEO Travis Kalanick will sell 29 per cent of his stake in the ride-hailing service, a person briefed on the deal says.
The sale is part of a transaction with investors that includes Softbank Group Corp. and would bring Kalanick about $1.4 billion US, according to the person, who asked not to be identified because the sale terms are private. Kalanick had not previously sold Uber shares but decided to do so now to diversify his holdings, the person said.
Uber didn't respond to an email seeking comment.
In the SoftBank deal, due to close this month, the Japanese technology conglomerate will pump about $9 billion US into Uber, including $1.25 billion US in new shares. SoftBank is acquiring about 15 per cent of Uber, while other investors in its group get around three per cent.
Kalanick, who previously owned about one-third of Uber, resigned as CEO last year following revelations of sexual harassment in the company and technological trickery designed to hinder regulators. Since he resigned, the company has acknowledged the cover-up of a hacking attack that stole personal information of 57 million passengers and 600,000 drivers.
The person said Kalanick loses his super-voting shares along with other early stakeholders in governance changes that came with the SoftBank deal. The changes diminish Kalanick's role in running the company from his days as CEO. He still controls three seats on the expanded 17-member board, although any new nominees would have to be approved by a board majority.
Uber was valued around $68.5 billion US during a 2016 capital investment, but that dropped to somewhere above $48 billion US in the SoftBank deal announced last week.
Despite that, early investors stand to make significant gains.